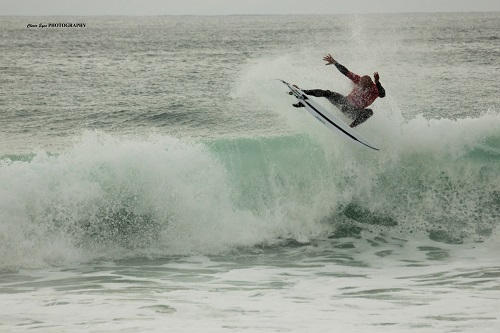 After one of the most exciting sets of heats taking place on Sunday, with the elimination of the top favourites, there will be no surfing at Supertubos this Monday and, with a storm set to hit the shoreline on Tuesday, it's likely Moche Rip Curl Pro Portugal"s lay days will extend until Wednesday, bringing the competition's surf camp in Portugal to a standstill.
The organization called the lay day after the three morning calls at 7, 9 and 10 AM, with deteriorating weather conditions, and onshore winds creating mushy waves. Tuesday should see a much improved swell, but a storm is set to arrive, which should keep surfers on the sand for yet another day.
Right now, Portuguese Frederico Morais has made history in Portuguese surf, having bested Joel Parkinson and Nat Young in the fourth round, and reaching the quarter finals with Fiilipe Toledo. After the fall of Fanning, Wright, Wilson and Slater, many eyes are now on the two Portuguese wildcards which, up until Sunday, didn't appear to be serious candidates to a win at Peniche.
They won"t have an easy task ahead (if they ever did), as Vasco Ribeiro will have to take on Keanu Asing (#21 of the WSL) and Jeremy Flores (#9 of the WSL) in the fourth round. Flores"s win on Saturday over Hobgood was a clear indication of the surfer's current form.
A lot of eyes are also certainly set on Brazil's Gabriel Medina, who, after a lacklustre 2015, seems to be picking up the pace and may be the favourite to win, but Italo Ferreira (#8 of the WSL) and Michel Bourez (#23 of the -WSL) will not be easy picks. Bourez has - we should recall - bested Josh Kerr in a very close call during round 3.
It's anyone's guess as to who will proceed to the quarter finals, after a set of very surprising heats and one thing is for sure: the competition is probably tighter than ever with all championship decisions postponed to Hawaii.
In the meantime, those attending have at their disposal some 100Km of the best shorelines in Europe and some of the most beautiful cities, including enchanting Lisbon, so we hope those who travelled to Peniche at least enjoy this day off.
If it all works out, with the weather cooperating, the surf comp in Portugal, Peniche, will be back in action on the 27th, at 7a.m..