Surf Portugal and discover adventure in Europe
Do you need reasons to come surf Portugal? We can give you plenty of reasons why you'll enjoy a great surf vacation in Portugal, but we'll settle at ten: the ten top spots for surfing around the country.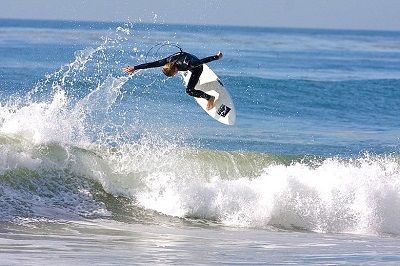 For lovers of surf, Portugal has become one of the best destinations in Europe, thanks to the climate, the amazing swells and the cultural aspect, making for an all around great vacation time for anyone who wants to do some sports, but also get to know the locals and the history of a country that, to top it all, has one of the finest cuisines in the continent. The time of having to sleep anywhere is also long gone, with finding a surf hostel in Portugal having become one of the easiest tasks in the world, thanks to the popularity of the sport.
So, not only are surfing conditions top of the line in Portugal, they are also very varied. While this is a very small country, those surfing in Portugal will find a wealth of difficulty levels and swells, depending on where they are. The small travelling distances here mean that with a couple of weeks of vacations allow you to really experiment with all sorts of surfing conditions.
But to save you some time, here are the ten best spots to surf Portugal, from north to south.
Ten surf spots not to miss
Espinho: this is probably the best surf spot in the north of the country, offering very safe conditions that make the region a frequent host of surfing competitions. While Espinho is characterized as having predominantly beach breaks with sandy bottoms and plenty of right handers, the north of the beach features a jetty that creates some point breaks.
Cabedelo, Figueira da Foz, comes next as a destination for those who want to surf Portugal and again it's a very exposed beach, that offers both left and right handers with sand bottom. Water temperature is generally acceptable at 14ºC during the winter, but as high as 18ºC during the Summer, and the difficulty level allows surfers of all skill levels to join in.
Praia do Norte, in Nazaré, has recently become one of the most famous surf spots in the world, thanks to the "Canhão da Nazaré" (Nazaré's Canon), the largest underwater canyon in Europe, which creates very unique swells as Garrett McNamara has shown. The giant waves of the Norte do Canhão are some of the most desirable events in European surf.
Further south, Peniche has the advantage of being a peninsula, so all around it's perimeter there is always an ideal swell and wind conditions for surfing, depending on what spot you chose. Spots can be found for all skill levels very easily. The whole area, even south to Lourinhã, offers some of the best surf vacation opportunities in Portugal.
Ericeira is again a top surf destination in Europe in the world. In fact, it's a surf reserve and frequently welcomes international competitions, and has become probably the #1 surf city in Portugal, with very advanced surf infrastructures and being the birthplace of some of Portugal's best known surfers.
Carcavelos, in Oeiras, is a whole new story, since being at the Tagus estuary makes Carcavelos one of the most beloved beaches in Lisbon. It has some world class swells and very good barrels, but the downside is that on sunnier days the beach is very crowded and the surf quality there may have attracted far too many surfers. Still, it's a top location for chilling out.
Algarve is a must-go place for anyone wanting to surf Portugal. We're reaching warmer waters now, peaking at over 20ºC in the summer time. Arrifana is an exposed beach with reef breaks and plenty of groundswells. Praia do Amado, a little further to the south, is also a very popular spot for hosting surf and bodyboard competions, and then there's Sagres, with a strong Mediterranean influence and some world class surf locations such as Tonel where you can surf regardless of the tide, but you should watch out for rocks.
Last but not least, the only top 10 spot not in continental Portugal is Paúl do Mar in Madeira, an exposed reefbreak, that has the advantage of sitting right in one of the Atlantic's most beautiful islands.
These ten spots are nowhere near the full number of wonderful surfing spots you'll find when you come surf Portugal, but they should allow you to better organize your trip. No other country in the world has so many great locations for water sports in such a small area as Portugal.