The many reasons to surf in Portugal
The world is full of gorgeous beaches and mighty swells, but there are plenty of reasons why for Surf, Portugal is your must-go to destination.
Forget Northern Europe. It's gorgeous, right? But you can't exactly surf in the Norwegian fjords!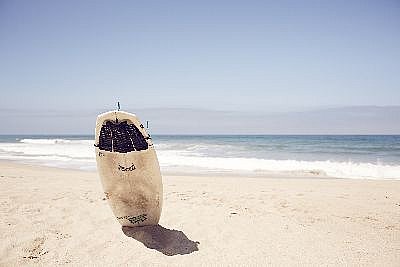 It's a whole new story for surf in Portugal, a country at the western tip of Europe, with an ample Atlantic coast and one of the most balanced weathers in the whole continent, making up for warm Summers and moderate winters. Water temperatures will go down in winter, but it never gets really as cold as elsewhere, allowing for an all year long surf practice.
The country's geography means any wave you want, you will have it, since it doesn't matter if you want reef or point breaks, right or left waves: Portugal has got it all. Some of the country's better known spots, like those around Peniche, feature sheltered bays and peninsulas, making for superb offshore wind conditions most of the time. Indeed, there aren't many places in the world that can top Portugals high index of surf days per year.
For lovers of surf, Portugal also represents great value. The country arrived late to the international surf scene, but is catching up fast and there are plenty of modern and safe infrastructures for surf practice, and most of all a very welcoming people, now well accustomed to surfers and beach sports. All this comes at very fair prices and with an ample choice of packages and programs. If you're planning a surf vacation, Portugal has plenty to offer, and you'll be definitely hooked.
A surf hostel for all
If you're looking for a surf hostel in Portugal, Underdog Surf House is place to go. We are at Lourinhã, one of the best places for surf in Portugal, where the average temperature is 16ºC and there are over 12Km of beach fronts. The municipality is fully committed with creating some of the best infrastructures for surf in Portugal, all the while seeking to make the practice open to all ages, from Summer to Winter time. The village is also very close to Lisbon, only 63Km from the capital, and even closer to Peniche or the must-visit architectural beauty of Óbidos, so there's always something to do when you're not surfing. And did we mention Lourinhã is the Portuguese dinosaur capital?
That's right: there are hundreds of fossilized traces of dinosaur life, including eggs. That means we cater to even the most Jurassic of surfers!
So, if its interesting in the sea, its certainly not boring on land either. This means we can provide you with some of the most interesting off-water activities to make sure you make the most of your stay in Portugal and enjoy Summer to the full.
It's as a part of this project that Underdog came to be, with a firm commitment to offering surfers from around the world the access to one of Europe's best surfing spots, regardless of your difficulty level, expectations or family size. It doesn't matter if you come alone, with friends or your family, nor does it matter if you are an experienced surfer or someone seeking to learn the ins and outs of riding a wave: Underdog has crafted accommodations and activities that will suit all your needs and expectations. We are very family friendly, with strong considerations for all around safety, so why don't you surf Portugal with us and your loved ones?